A combination of Bailey Panel connection
Release time:2017-08-09
Publisher: Baidu Wenku
source: Baidu Wenku
A combination of Bailey Panel connection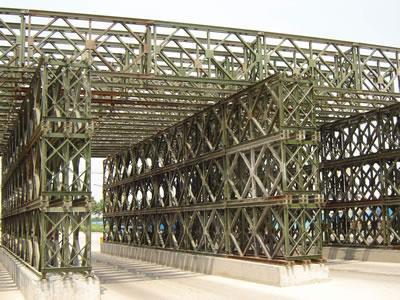 "Bailey Bridge" also known as Bailey Bridge, Bailey beam or truss, the first in the World War II invented by a British engineer, to address the need for rapid erection of the bridge during the war, and for his name. The utility model can be used for road bridges, assembled Longmen cranes, guide beams, bridge erecting machines, hanging baskets, etc. Bailey truss gantry crane.
  Application:
  Hunan Bailey can be used for highway bridge erection in Longmen crane girder erecting machine, basket. Combination of Bailey truss gantry crane, assembled highway bridge component assembling Longmen frame is adopted, and the span and the height of the column can be adjusted to adapt to different working site, widely used in highway, railway, municipal water conservancy construction project, construction, bridge construction, transportation, lifting prefabricated field prefabricated pier beam transport, near field construction operations.
  Introduce:
  Hunan Bailey has the advantages of simple structure, convenient transportation, set up fast, large carrying capacity, interchangeability good characteristics and strong adaptability.
  "321" steel is in the original imperial Bailey Truss Bridge on the basis of the rapid assembly bridge combined with China's national conditions and the actual situation developed in 1965, setting production, has been greatly developed in our country, widely used in national defense, combat readiness, traffic engineering, municipal engineering, is the application of [1] I China is the most widely used, the best assembled bridge. The utility model has the advantages of simple structure, convenient transportation, quick erection, large load capacity, good interchangeability and strong adaptability.
  The "HD200" type assembly type highway steel bridge increases the height of the truss, improves the carrying capacity, improves the stability, increases the fatigue life and improves the reliability. Compared with the 321 type steel bridge, the strength increased by 33% and the rigidity increased by 2.3 times under the same combination. The scope of a single lane bridge deck width 4.2M, combination of span is 9.14-76.2M, the two lane bridge deck width 7.4M, span 9.14-57.91M combination.